What is B2B lead generation and why does it stand out?
B2B lead generation is an acronym for business-to-business lead generation. It refers to organizations that sell to other companies. B2B lead generation is a step in the traditional marketing funnel or sales process. Lead generation involves collecting information about prospects such as name, company name, email, job title, product or service requirements. Then using that information to target prospects in customized marketing and promotional campaigns. 
Business-to-business (B2B) lead generation is different from business-to-business (B2C) customer acquisition. In B2C campaigns products and services are sold directly to customers. 
It's not just where the leads came from. The nurturing of B2B and B2C lead generation processes are also very different. Thus, marketing professionals of the service-providing company need to get off to a good start.
B2B Process to generate leads
Learning how to generate leads is just the first step in the process. If you're serious about increasing sales, you'll need to invest heavily in creating potential customers. The lead generation process connects marketing and sales teams and provides representatives with a proven structure to operate. You know that B2B lead generation refers to the process by which a sales and marketing team converts prospects into paid customers. But what exactly do these steps include? 
Step 1: Identifying B2B leads
Finding potential buyer contact details is the first step in generating a B2B lead.
Step 2: Contact potential leads
Telesales representatives respond to queries after contacting leads via cold outreach, social networking sites, or creating a list of high-quality leads.
Step 3: Narrowing down high-quality leads
Sales reps test the likelihood of buying a lead while talking to the lead. They do this by determining where the leads are in the purchasing process. These phases are as follows:
Research and Awareness: Most of the time, customers are aware of the problem and want to learn about the solution. So they want to consume content that solves the problem. Hence, in the awareness phase, they find blogs, white papers, and case studies.
Consideration: Leads are aware of the specific service/product they need. They outline specific requirements before investigating and "opening up" vendors.
Convert leads to customers on sale: After several meetings with different vendors, prospects will choose you and reach an agreement. You are now assigned to a customer relationship for onboarding.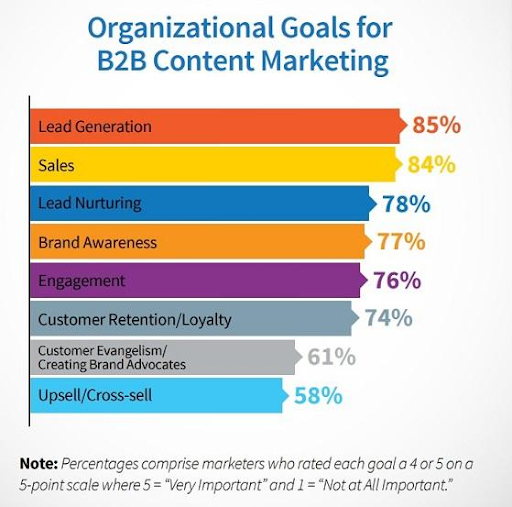 Effective B2B lead generation strategy
The best way to increase sales is to personalize your B2B  approach to create potential customers based on your industry, product, and customer. You can customize your lead generation strategies in more than one way. You need to keep scrolling to see how many we have listed down for you.
Sales and marketing teams need to be ready to try, learn, and hire new ways to generate B2B leads. To do this, you need to experiment with different strategies until you find one that fits your product and your customers perfectly.
Create high-quality content.
Understanding your audience is the initial step to creating high-quality content. To begin, you should create customer profiles. Curate content for them based on the specific keywords they are already searching for.
However, it may take more than a well-written article to get the clients on board. Think about what your buyer requires to make their life easier. What can you offer them that will compel them to give you their contact details? Make the information actionable, useful to them, and relevant to your company.
Use good content campaigns to generate leads (ongoingly).
Snack Nation, an office snack supplier less than 100 monthly searches for their specific word. So naturally, they were trying to increase their B2B leads. They created a post on employee wellbeing. It was a wider search term to reach a larger audience than would include their suitable B2B leads. Their focus was to create a high engagement post to ensure that it was compelling enough to generate leads.
Snack Nation outdid the competition by including 121 ideas for employee wellbeing. They included a wide number of contributions from other industry authorities as well. And they used an intense outreach strategy to get bloggers to share their posts. So what do we learn from this? Evergreen content can generate leads for a long time.
Create an easy demo scheduling option.
B2B buyers usually research for the service they want. So, when they outsource an aspect of their business, they want a smooth process. It's because they have lost their time due to the amount of research they had to do before making a decision. So, if you want to turn them into customers, be sure you make the next steps frictionless. This will help you stand out to your leads. Make your leads realize that you are easy to work with at the first interaction.
Collaborate with Businesses that have the same value as yours
It's like kismet when you find an organization that shares your company values. You most likely have a closely related audience, so a collaborative effort to boost sales makes perfect sense.
One of the best instances is the collaboration between processor behemoth Intel and the desktop manufacturer Dell. Their highly featured computers were not only beneficial for their prospective clients, but the campaigns they launched together created a sense of uniqueness and superiority.
Social validation helps you gain the trust of your prospective buyers.
Social proof is an effective tool for generating B2B sales leads. Buyers will be skeptical of claims about your product/service. So, they will look for customer testimonials to make a more informed buying decision.
The more social evidence you can collect on your website, the easier it will be to build goodwill and boost sales. Add social validation to your website homepage and landing pages. Include customer reviews on social platforms and develop case studies.
To get more quality traffic, optimize for long-tail keywords.
A long-tail keyword is three or more words long and is extremely specific. It receives a low search volume compared to generic keywords. But if you identify the right long-tail keyword, you can trade off search traffic for especially high buy intent leads.  It will boost your sales volume with minimal SEO effort.
Campaigns could often be run on competitor keywords.
If you're Adidas, one of your marketing strategies could be to investigate what's going on behind the marketing scenes of Nike. It's a big deal if your competitors go to particular websites for backlinks or prefer optimizing a noticeable group of search terms. It means they've discovered profitable keywords that generate hot leads.
Before you invest a lot of time and money in optimizing a specific keyword, test it with a small paid advertising campaign to see if it tends to attract and convert your ideal B2B leads.
Test everything before going live.
Conduct A/B testing before going live. No marketer good at their job would limit their lead generation to a single homepage with a single call-to-action button. So, this isn't a piece of advice to A/B test the different CTAs', but rather to split test everything—even the aspects that you think are irrelevant.
Change the color of your buttons, experiment with different fonts for your CTA message. Test everything gradually until you find the correct combination. The difference that the correct CTR and demo requests can make may amaze you.
Final Thought
Generating B2B leads can be difficult because you might get confused about which strategy to apply. But it's not impossible. So, don't overthink about which strategy to apply. Decide on a few of them by consulting your team and weighing the effectiveness. Do the A/B testing and discard opportunities that don't work for you. This way you can narrow down the perfect strategy without stressing over missed opportunities.