On March 12th, and running through March 13th, Google released a large update to their search algorithm. As we wrote about in a previous blog post on our site, sometimes it is just anyone's best guess as to whether there was an update or not. Google doesn't always say when they've updated their algorithm so sometimes it is just a matter of analyzing the data closely to see for yourself.
This update was different however as Google confirmed in a tweet on March 13th that there was in fact a large algorithm update. Now, Google's rare public announcement aside, it was pretty apparent that something big had been changed in the past few days as buzz about large ranking fluctuations began to spread around social channels.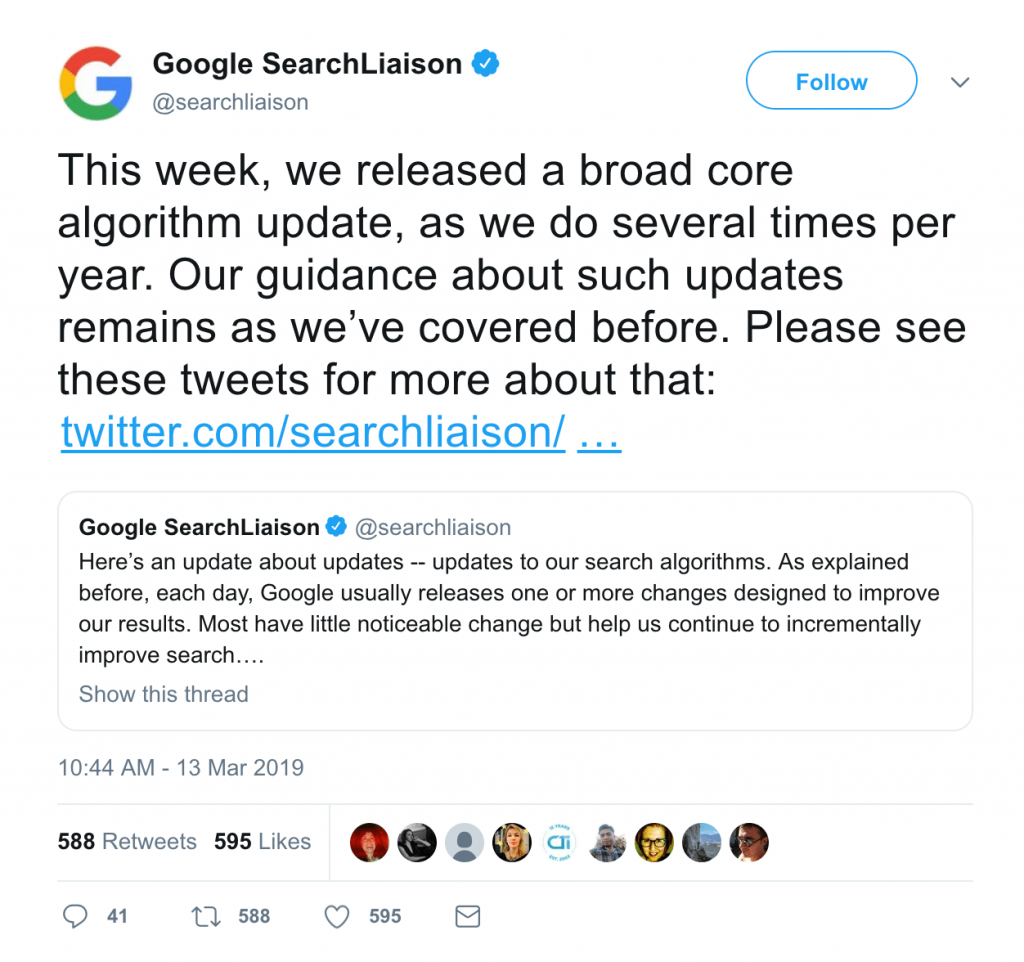 In a great article about the latest Google update, the people over at cognitiveseo.com did some digging and found some major drops in rankings on popular keywords with high search volumes to backup what everyone has been saying online about their own rankings.
Cognitive SEO noted that they only found a few situations where websites declined in SERP on a just a few keywords. Most sites they looked at dropped rankings in half or more than half of the keywords they wanted to rank in.

Why Should You Know?
So why is it important to be aware of these algorithm updates? The basic answer is so you don't misidentify the source of your rank fluctuations. There isn't anything you can do to "fix" your rankings during these broad core updates that Google rolls out, but knowing that the update has happened tells you that it isn't something that you are doing on your end.
In series of tweets in late 2018, Google stated, "Here's an update about updates — updates to our search algorithms. As explained before, each day, Google usually releases one or more changes designed to improve our results. Most have little noticeable change but help us continue to incrementally improve search… Sometimes, we make broad changes to our core algorithm. We inform about those because the actionable advice is that there is nothing in particular to 'fix,' and we don't want content owners to mistakenly try to change things that aren't issues… We understand those who do less well after a core update change may still feel they need to do something. We suggest focusing on ensuring you are offering the best content you can. That's what our algorithms seek to reward."
What Should You Do?
According to Google, you don't need to make any sweeping changes to your site. However, in our opinion, you should still cover your tracks. Take an algorithm update as a good time to check what you're doing and make sure you're still on the right track. Make sure your content is relevant and optimized, make sure your site is performing well, check your backlink profile, and check your ranking positions, among other things. Basically, check yourself before you wreck yourself!
If you need help checking yourself and making sure you're not wrecking yourself get in touch with us to find out more about what SEO is and what it can do for your business and your website. There is a whole world out there to explore and we'd love to help you take the trek or at the very at least start to learn more about it!
As for what this algorithm update changed, it is still too early to tell. When we know we'll make sure to provide an update, but research still needs to be done across the broader SEO community in order to pinpoint what the changes are.